Permanent Supportive Housing for Chronically Homeless Women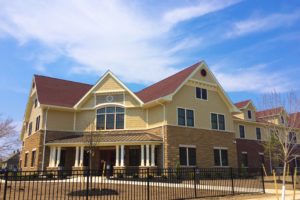 Hope Gardens is an innovative permanent supported housing program that houses 20 chronically homeless women. Each woman has their own furnished studio apartment that they can call home. The building is staffed 24/7 providing a safe and secure environment for its residents. Many of our residents will have lived on the streets and in abandoned buildings for years and some of them suffer from mental illness and addictions very often the result of repeated sexual and physical assaults or a lifetime of abuse. Our professional staff provide support services such as counseling and case management delivered in a low-demand, trauma informed approach.
Building amenities include laundry facilities, a home-style kitchen providing breakfast and dinner daily, a library, computer room, art studio and a lounge. Additionally a large multipurpose room serves as space for therapeutic interactive programming – such as art therapy, poetry, therapeutic gardening (in our courtyard) yoga, and relaxation exercises. This type of therapy allows the women to physically partake in an activity that will help them cope during the healing process. That physical activity alone provides them with a sense control – something they have not had in years or perhaps never had – to help with self-esteem and taking charge of their own life.
Hope Gardens is a home – a home where the residents are free to dream their dreams, face their fears, forge friendships and build a community. It is our "hope" that tears of healing are soon transformed into tears of laughter.
Hope Gardens is made possible by our most generous funders:
Federal Home Loan Bank |New York State Homeless Housing Assistance Program |
Patrick L. Lee Foundation | U.S. Department of Housing & Urban Development | Ingram Micro
We are a United Way Agency