All referrals are received from Matt Urban's Homeless Outreach Team whom also serves as our community's Coordinated Entry Lead. This process allows for homeless service providers to assist those who are most vulnerable and most in need. If you have someone that you believe meets the criteria for Permanent Supportive Housing, please contact our outreach team.  To find out more about Permanent Supportive Housing eligibility and Coordinated Entry, please refer to the Homeless Alliance of Western New York and Permanent Supportive Housing Referral Packet.
The Matt Urban Center manages Hope Gardens, a supportive housing complex for women.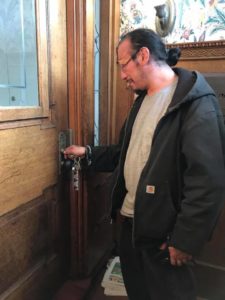 Dennis P. Culhane et all, in his article Housing Policy and Debate (2002),  assesses the impact of public investment in supportive housing for homeless persons with severe mental disabilities. Data on 4,679 people placed in such housing in New York City between 1989 and 1997 were merged with data on the utilization of public shelters, public and private hospitals, and correctional facilities. A series of matched controls who were homeless but not placed in housing were similarly tracked. Regression results reveal that persons placed in supportive housing experience marked reductions in shelter use, hospitalizations, length of stay per hospitalization, and time incarcerated. Before placement, homeless people with severe mental illness used about $40,449 per person per year in services (1999 dollars), versus $17,277 after placement.
"Everyone has the right to a standard of living adequate for the health and well being of himself and of his family, including food, clothing, housing and medical care and necessary social services and the right to security in the event of unemployment, sickness, disability, widowhood, old age or other lack of livelihood in circumstances beyond his own control."  
-Universal Declaration of Human Rights, 1948