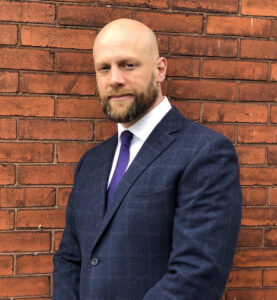 Greetings, friends of the Matt Urban Center.
It is with great humility that I address you all as the new Executive Director of this historic human services organization. I officially assumed this role on Monday, January 4, 2021 and as I write this, I am mid-way through my fourth week.
First, I must thank the former Acting Executive Director and current Chief Program Officer, Alissa Venturini, for her leadership during a challenging and uncertain time for the agency. I feel incredibly fortunate to have her and the rest of the leadership team by my side as we begin to chart the new course for the continued success of the Matt Urban Center.
Over the course of this month, a few things have become exceedingly clear to me: the services we provide are critical to both individuals and the community at large; the employees who deliver these services are talented and invested in the success of their clients; and that there are tremendous additional needs that are currently unmet. In saying that, I would also like to make clear that despite the high level of need, there are other intangible resources that are in large supply. The strength, resolve, resourcefulness and ingenuity, as well as the deep level of care, commitment and consideration exhibited by members of our community and team on a daily basis are, in my opinion, the true measure of our collective worth and impact.
As I begin my tenure, my immediate goals are to bring stability to the organization in the near term; to learn as much as possible about our diverse array of program offerings – from afterschool to emergency home repairs; and to connect with our partners, funders and stakeholder groups, including community organizations and individual community members. While the pandemic will impact my ability to make those connections in the way I would prefer, I will make every effort to be as visible and accessible as possible as we continue to safely navigate COVID-19. However, when the weather begins to turn and our ability to interact in person increases, you can count on seeing me around the building and neighborhood, talking and listening to what our friends and neighbors have to say.
Lastly, I just can't emphasize enough how humbled and excited I am to have the opportunity to lead this organization and have a positive impact on our neighborhood, the East Side, City of Buffalo, Erie County and WNY as a whole. I look forward to meeting and working with you all. Stay safe and healthy.